Side Dishes & Canapes
Mango Chutney and Naan Bread
Earlier this week, when I posted the Chicken Tikka Curry recipe, I promised I'd follow it up with a recipe for homemade mango chutney, so here goes… It's lovely stirred into the tikka sauce but is equally good served as a spoonful on the side of the plate (and it's delicious with cheese too). I've also made some naan bread to go with curry this week.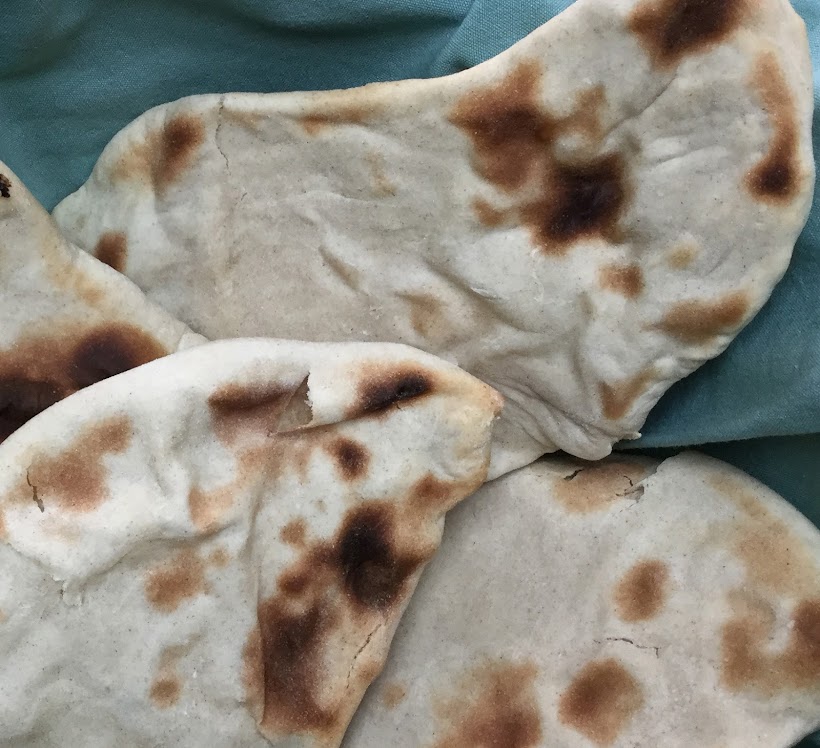 For the mango chutney:
2 ripe mangoes, chopped
quarter of a red onion, chopped
3 cloves of garlic
red chilli, chopped
1 tsp of ground cumin
1 tsp coriander powder
half a tsp of mustard seeds
a thumb-sized piece of chopped fresh ginger
1 tbsp of white wine vinegar
1 tbsp runny honey
For the naan bread:
250g plain flour
one and a half tsp caster sugar
half tsp salt
half tsp baking powder
2 tbsp rapeseed oil
knob of butter
1 tsp of ground cumin
Method
To make the mango chutney:
Put the mangoes in a pan with the red onion, garlic, red chilli, ground cumin, coriander powder, mustard seeds and fresh ginger. Add the white wine vinegar and simmer over a low heat for about 40 mins until everything is soft. Stir in the runny honey. Will keep in the fridge for about three days.

To make the naan bread:
Put the plain flour in a bowl with the caster sugar, salt and baking powder. Make a well in the centre and pour in 130ml warm water and the rapeseed oil. Stir with a fork until it's starting to come to a dough and then use your hands. If it's too dry, add a little more water but don't make it sticky - you're aiming for a soft, pliable ball of dough. Knead by hand for 10 mins or with a dough hook in a food mixer for 6 mins. Leave in a warm place, covered with clingfilm (the airing cupboard is ideal) for half an hour until sightly puffy. Cut into four and flatten each piece out fairly thinly on a floured surface, making roughly oval shapes. Put under a medium-hot grill for about 4 mins each side - the aroma as it's cooking will turn from raw dough to aromatic bread so you'l know when they're ready. While they're cooking, melt the butter with the ground cumin and some black pepper and use this to brush the hot naans before serving them.