Puddings & Desserts
Kiwi and Lemon Cheesecake
This week in my regular Diary of a Garden column on the Alan Titchmarsh page in Waitrose 'Weekend' (the newspaper-style magazine that goes in store each Thursday), I wrote about the two kinds of kiwi I grow here. For some time, I've had the grape-sized, 'fuzz-free' cocktail kiwi Actinidia arguta 'Issai' (shown in the photo above) growing up the side wall of my garden office. It's meant to be very prolific but mine has only ever had a handful of fruit on it - I now know why… When I was reading up on it before writing the Diary, I realised I should have been pruning it so it becomes more of a shrub than a climber, as that will encourage it to fruit more. Ah well - I'll know that for next year!
Meanwhile, I was given a 'normal' kiwi fruit plant (Actinidia deliciosa) for my birthday in June - thank you, Linda M! - which I was very pleased about as I'd been looking for something to climb up the pergola over my patio to prolong the season of interest after the wisteria's finished flowering. The kiwi plant Linda gave me is 'Jenny' which is hardy in the UK and, best of all, the only self-fertile variety available here, meaning that it doesn't need a second plant in order to produce fruit. The fruit will apparently form at the top once the plant has reached the full height of its post and starts to scramble horizontally over the pergola - I'll need to prune it carefully in winter so that there's a strong single stem and then strong fruit-bearing side shoots at the top.
Both types of kiwi are available from DT Brown (dtbrownseeds.co.uk) - a big thank you to them for supplying the image of 'Issai' (I didn't have enough fruit this year to do a photo myself!).
Anyway, although I'll have quite a long wait before I'll be able to harvest fruit from one or both kinds of kiwi, I've been dreaming up recipes to use them in. I reckon this cheesecake will be a good one to start with - made, for now, with a box of kiwis bought from the village shop!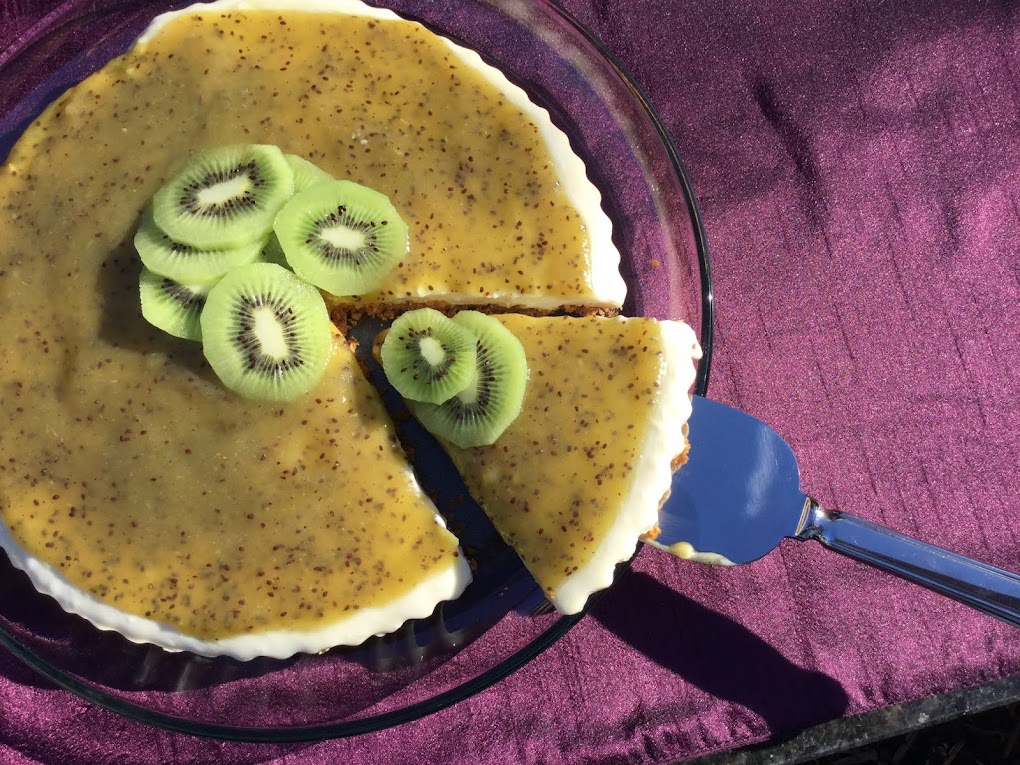 240g pack ginger nuts
50g butter, melted
200g pack soft cheese
397g can condensed milk
142ml low-fat creme fraiche
Grated rind of a lemon, plus 8 tbsp lemon juice
6 kiwi fruits
2 tsp vanilla extract
icing sugar
Method
Put the ginger nuts in plastic food bag and bash with a rolling pin until you have fine crumbs (a very good activity for stress relief, as I discovered yesterday!). Mix with the melted butter and press into the base of a loose-bottomed flan tin (it's easiest to use your hands for this). Put in the fridge for at least 3 hours to set.

Whisk together the soft cheese, condensed milk, creme fraiche and soft cheese, then stir in the lemon rind and juice. As soon as you add the juice, the mixture will start to thicken as if by magic. Spread onto the biscuit base and leave for at least an hour in the fridge to finish setting (it won't ever become completely firm but will be set enough to slice beautifully).

Peel and chop 5 of the kiwis them whizz them with a stick blender (or in a smoothie maker) with the vanilla, plus icing sugar to taste. Just before you are ready to serve the cheesecake, spread the kiwi puree over the lemony filling and top with the remaining kiwi, sliced.
A Cook's Plot Tip
For many fruit purees to finish off a cheesecake, you'd use gelatine to create a glossy, firm topping - but kiwis (like pineapple) contain an enzyme that breaks down the gelatine so that the mixture will never set. But this version works really well without it - and it means the recipe is vegetarian too, unlike many cheesecakes.

Kiwi will start to break down dairy ingredients quite quickly too, for the same reason, so don't add the topping until just before you are ready to serve the cheesecake, or the filling may start to look a bit curdled.