Side Dishes & Canapes
Chestnut, Sage and Lemon Stuffing
Being a magazine journalist means that I always feel as if I have two Christmasses every year - one for the magazines I write for, which starts with planning meetings way back in June and goes on until we finish working on the last Christmas pages around now, and then the real one! So because I've been so busy with Christmas mark 1, it's only this week that I've had time to take stock and think about what I want to cook when it comes to the real Christmas Day. It'll be roast turkey and all the trimmings, but I like to shake it up a bit with a few new additions and accompaniments each year, and a new recipe for stuffing was top of my agenda.
Last year, I made an apricot and pistachio stuffing that was really lovely (https://a-cooks-plot.blogspot.com/2018/12/apricot-and-pistachio-stuffing.html), so that's going to take some beating but I reckon this one will hit the spot too. Lemon and turkey go really well together, and the sage adds an extra layer of robust flavour that works very well with chestnuts. I've added dried cranberries to the mix but, if you prefer, chopped black olives make a good alternative.
I never stuff my turkey as I think it interferes too much with the cooking time, so I always roll stuffing into balls and cook it separately like that. But the recipe can also be made in one dish - it will just need about 5 minutes longer cooking time.
If you want to get ahead, these freeze well (uncooked) and will only take about 15 minutes to defrost at room temperature.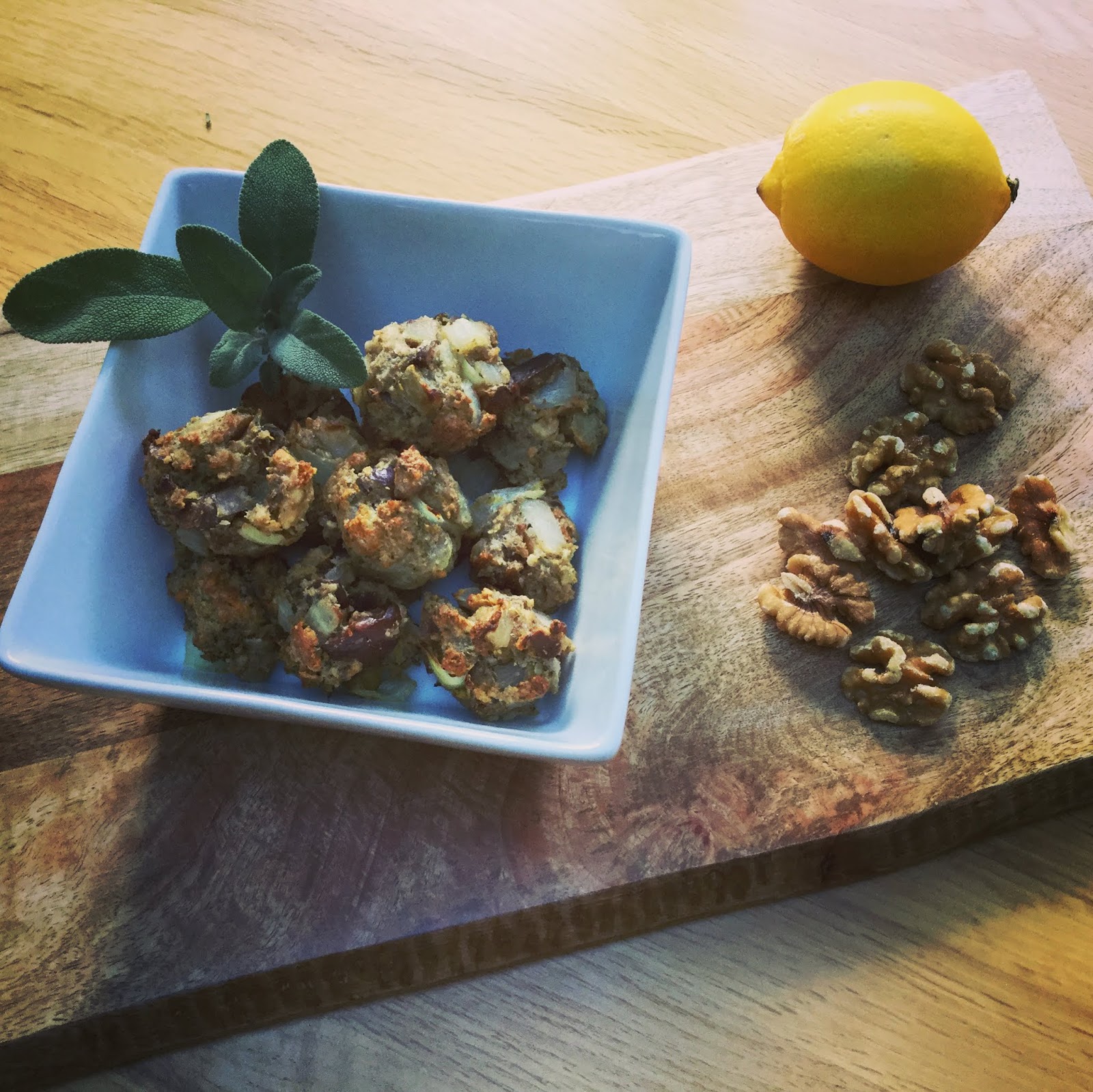 1 onion, chopped
1 clove of garlic, crushed
1 tbsp chopped fresh sage
50g walnut pieces
50g fresh breadcrumbs
2 lemons, zest only
a little freshly grated nutmeg
100g vacuum-packed chestnuts
handful dried cranberries, chopped
1 egg
Method
Fry the onion in a little olive oil, then add the garlic and fry for one minute more. Mix with the sage, walnut pieces, breadcrumbs, lemon zest, chestnuts and cranberries and season with half a teaspoon of salt and plenty of freshly ground black pepper. Stir in the egg, then roll into fairly small balls (it's easier to roll them if you wet your hands before you start and then clean them off a couple of times and re-wet them as you go). Put in a buttered ovenproof dish and bake at 180C (fan oven) for 15 minutes until nicely golden.

Makes about 16 fairly small stuffing balls.
A Cook's Plot Tip
These also make a great alternative to falafels, served with a dip like houmous or guacamole.